Theperfectgarden.co.uk may earn a small commission (at no extra cost to the user) from Amazon and other online retailers if a purchase is made after clicking a link. I appreciate your continuing support.
Hot tubs have long been a source of relaxation and a place for social interaction since before the Romans, who went on to build opulent spas to help their soldiers recover from the rigours of war. Hence the word spa, which is derived from the phrase "Health through water". Inflatable hot tubs are a hot topic in garden design. However, not everybody has space for a large hard shell spa. So what is available when you are looking at hot tubs for small spaces.
Inflatable Hot Tubs for Small Spaces
Small inflatable hot tubs are made from an extremely tough vinyl /PVC material. This is stitched together in sections to create strength in the hot tub walls. It is this technology that makes the tubs strong and durable enabling them to, not only hold the water but take the pressure of the sitting occupants.
Packaged with the small inflatable hot tub itself, is an external, combined pump and heater unit. The pump produces the air which keeps the hot tub inflated and also produces the relaxing bubbles within the pool. The heater, well that simply heats the water!
If you are looking for an inflatable hot tub for small spaces, don't expect to have a lot of room to move around! The majority of the small inflatable hot tubs have a diameter of 6′ and can seat up to 4 people, perfect for a couple.
Best Hot Tubs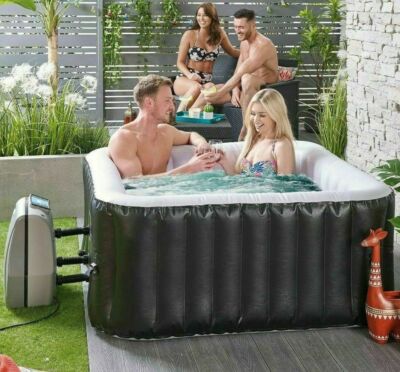 £399.99
in stock
as of 27th January 2021 8:13 am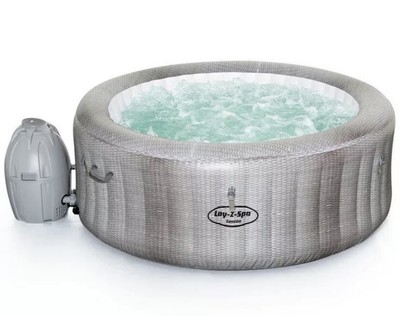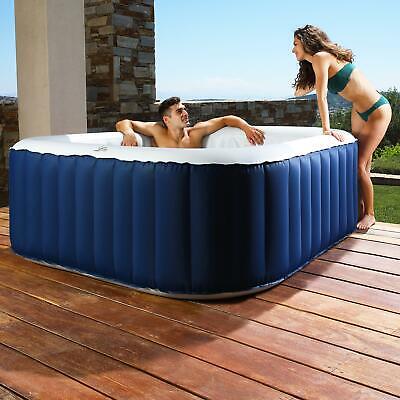 Are Hot Tubs worth it?
If you love bubbly water and enjoy somewhere a bit different to relax and unwind, then the answer is most definitely yes. Inflatable hot tubs don't have powerful hydro jets that you find in the hard shell models but the air jets do give a lovely, relaxing bubbling effect which can be enhanced with the many aromatherapy crystals that are available. Giving a relaxing scent and colour to add to your experience.
If you rent the property you live in, then inflatable hot tubs can be a perfect solution. Just be aware if you place your tub on the lawn for a long period, there is a good chance the grass underneath may not recover. Be prepared that you may have to reseed the area when you leave, to keep the landlord happy! The inflatable hot tub models don't have seats. However, the bases are densely padded so you will be quite comfortable and with the plethora of hot tub gadgets and accessories available in the UK you won't be short of items to bling your tub.
Which are the Best Small Hot Tubs to Buy?
You can grab the cheapest small inflatable hot tub for around £279. However, if you look into the more expensive models like the Lay-Z-Spas at around £600, you do get a few extra benefits. For example, Rapid heating, energy-saving features and timer controls.
If you are looking for a total inflatable hot tub experience, some of the more luxurious models come with WIFI technology. This feature allows the hot tub to be turned on with an app via your mobile phone. It's then ready and waiting for you when you return home from a long day at work, nice!
Who sells Inflatable Hot Tubs?
The internet is littered with reviews of inflatable hot tubs. As the old saying goes "You get what you pay for". This doesn't necessarily mean cheap hot tubs are useless straight out of the box. It might be that, they just don't last quite so long, thought to be around 4 years for the budget models. If you want "Inflatable hot tubs near me" then B&Q have inflatable hot tubs at very competitive prices, with delivery and click or collect options.
You can buy the most popular premium Lay-Z-Spa inflatable hot tubs direct from Lay-z-spa.co.uk with full back up and finance options. The Lay-Z-Spas are also available on amazon.co.uk, many of which are sold and dispatched by amazon, so you will benefit from their impressive returns policy
Premium Hot Tubs
£729.99
in stock
2 new from £729.99
as of 27th January 2021 8:13 am
£999.99
in stock
as of 27th January 2021 8:13 am
Can I leave an Inflatable Hot Tub out and use it in the Winter?
This is the million-dollar question. The answer is yes and no! It wholly depends on the model.
In theory, the actual hot tub will be robust enough to cope with bad weather. Unfortunately, it's the mechanics like the pump, heater and associated pipework that will suffer at low temperatures.
Some premium models come with freeze Shield technology. This increases the water circulation to prevent the mechanics and tubs suffering at low temperatures. Inflatable hot tubs are designed to be inflated or deflated and put away very quickly. If you think you won't use the tub for a little while, then packing it away and storing it will prolong its life and prevent any cold weather damage. All that said, there is nothing to stop you using the inflatable hot tub in the winter especially with a traditional hot chocolate or glass of mulled wine!
What Size are Lay Z Spas?
The smallest round inflatable hot tubs are the Miami and Cancun which measure 180 cm (6ft) in diameter and 66 cm high.
The smallest rectangular inflatable spa is Hawaii at 180 cm x 180 cm and 71cm high.
The narrowest hot tub is Siena which measures L249cm x W149cm.
The 4 – 6 person hot tubs measure 196 cm x 66 cm. Which include Palm Springs, Vegas and Paris.
The biggest Inflatable hot tub is St Moritz at 216 cm x 71 cm. Closely followed by Monaco at 201 cm x 69 cm.
Can I put an Inflatable Hot Tub on a Deck or Balcony?
Decks or balconies can be constructed or supported in many different ways. Small inflatable hot tubs hold around 700 litres of water which could weigh as much as 700 kg, the equivalent to 10 average people plus the occupants. Ensure decks are properly supported and that your balcony is able to take this amount of weight in a concentrated area.
Inflatable hot tubs can go anywhere on the ground but remember, although extremely tough and often supplied with a thick base sheet, they could be subject to punctures. So when placing the tub, ensure there is nothing sharp lurking in the ground below.
Narrow Spas
out of stock
as of 27th January 2021 8:13 am
Do I have to put Chemicals in the Water?
Like anything outside, your tub is going to get dirty and it is important to keep the water clear and free from debris. Due to the way the vinyl/PVC walls are constructed, there are going to be areas that attract dirt more than others.
Try to position the tub so it's not under trees or shrubs. Additionally, keep a lid on the tub when not in use to stop leaves and other detritus falling in the water. Hot soapy water and a sponge will easily remove areas that may have turned green. To help keep bacteria at bay, there are also a few chemicals that you could use to keep the water crystal clear.
Spa Chemicals
£24.56
£29.99
in stock
25 new from £24.56
as of 27th January 2021 8:13 am
Could a cat or dog claws damage my Inflatable Hot Tub?
The answer is yes. Although the inflatable hot tubs are made of very tough material, it is possible that cats' claws could puncture the tub. Especially if the cat is prone to clawing or slips and panics whilst being just that little bit too inquisitive!
There is some good news though. If a cat was to walk around the top or a dog jumped up, resting his paws, it is highly likely the tub will survive and not be damaged. If the tub is accidentally punctured, inflatable hot tub repair kits can be bought easily online.
Hot Tub Accessories and Gadgets UK
There are many accessories you can add, to make your spa experience a little more fun and luxurious. There's even a canopy for privacy if your garden is overlooked. We've listed a few here.
Hot Tub Accessories
£11.49
in stock
as of 27th January 2021 8:13 am
£14.34
in stock
as of 27th January 2021 8:13 am
£24.00
in stock
as of 27th January 2021 8:13 am
£35.94
in stock
7 new from £35.94
as of 27th January 2021 8:13 am
£114.99
in stock
8 new from £110.71
as of 27th January 2021 8:13 am
out of stock
as of 27th January 2021 8:13 am